Date: May 27th, 2023
Distance: Olympic
Location: Clear Lake, IA
Swim: 00:27:10.8
T1: Swim-to-Bike: 00:01:42.4
Bike: 01:02:17.4
T2: Bike-to-Run: 00:01:45.6
Run: 00:40:34.2
Overall: 02:13:30.6
Division Rank: 2/18 | Gender Rank: 9/124 | Overall Rank: 11/185
---
Race Recap
TRI Clear Lake was my season opener for 2023 and I am really pleased with my performance. My fitness and race execution improved greatly since 2022, allowing me to PR by 9 minutes (09:03.2) over 2022.
Additionally, TRI Clear Lake Triathlon was selected by USA Triathlon to host the Iowa Age Group State Championships, which gives athletes the ability to race for a National Championships qualifying spot:
USA Triathlon State Championship races qualify the top 35% or top five (5) finishers in an age group (whichever is greater) for Age Group National Championships. You may only qualify for Olympic-distance Nationals by placing in the Olympic distance State Championship race or Sprint Nationals by placing in the Sprint distance State Championship race.
Given my podium position for the M30-34 category, my performance qualified me to race in the 2023 USA Triathlon Age Group National Championships in Milwaukee, Wisconsin.
Race Venue
TRI Clear Lake takes place in Clear Lake, Iowa, a beautiful small town situated on a natural spring-fed lake in northern Iowa midway between Des Moines and Minneapolis. The event is well-organized and professional. The swim, bike, and run courses are consistent with the official Olympic distances (1500m, 40km, 10km), are well marked, and heavily volunteered. It is a great destination to host a triathlon event and the organizers do a fantastic job.
Swim
Initially, I was disappointed with my swim. A gain of ~16 seconds seemed rather low given the solid swim block I had completed with the Masters swim squad leading up to the race. However, after reviewing my FIT files from the previous year, I was able to better assess my performance. First off, my swim overall felt very comfortable. I was able to focus on my form and sighting and strategize around the dynamics of the race. Unfortunately, I ended up swimming alone, since I failed to bridge to one of the middle packs. I felt relaxed in the swim for the first time in my triathlon career, which is a psychological win for sure. I could certainly have pushed harder and will focus on arm speed and pacing for my next race.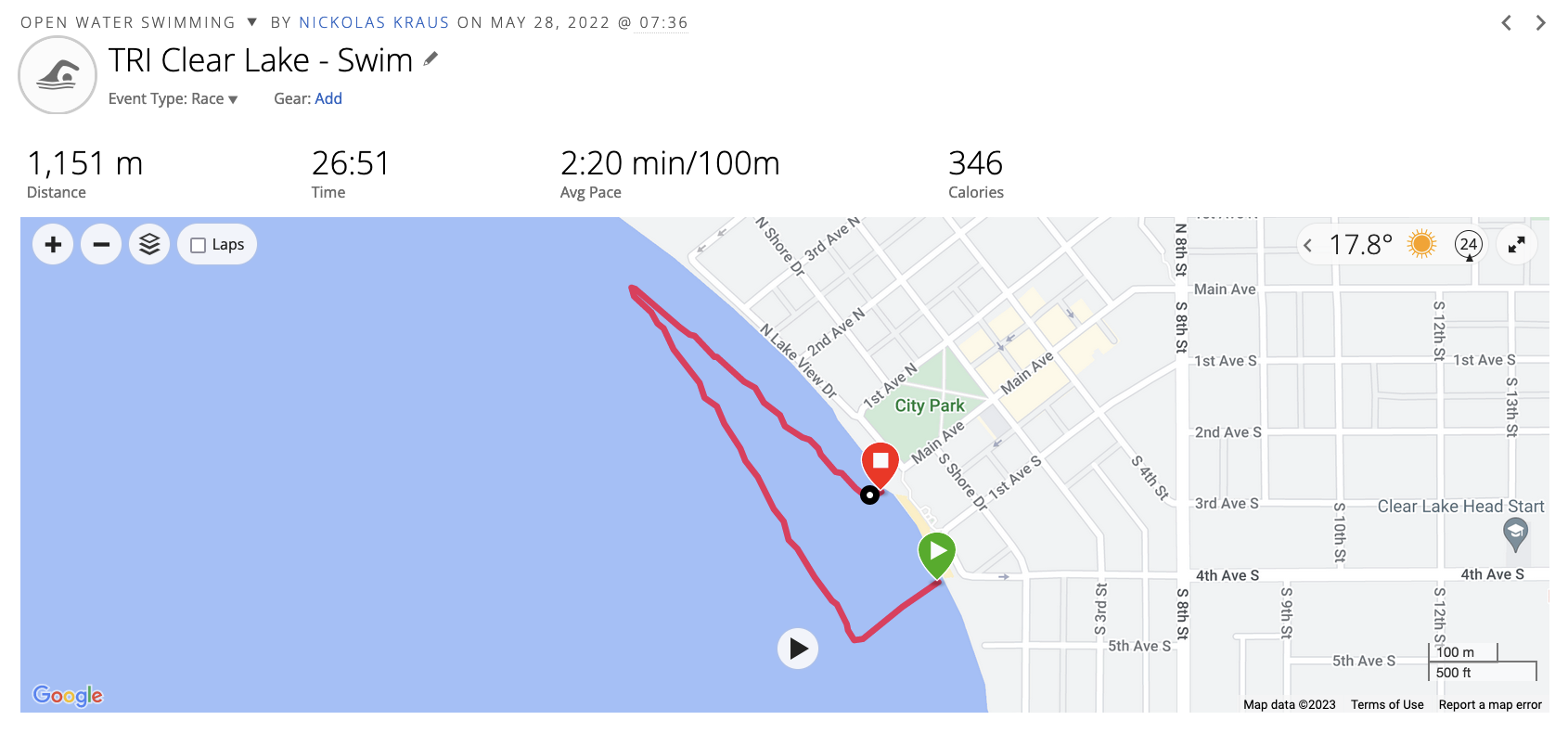 The 2022 TRI Clear Lake swim course was almost 400 meters too short.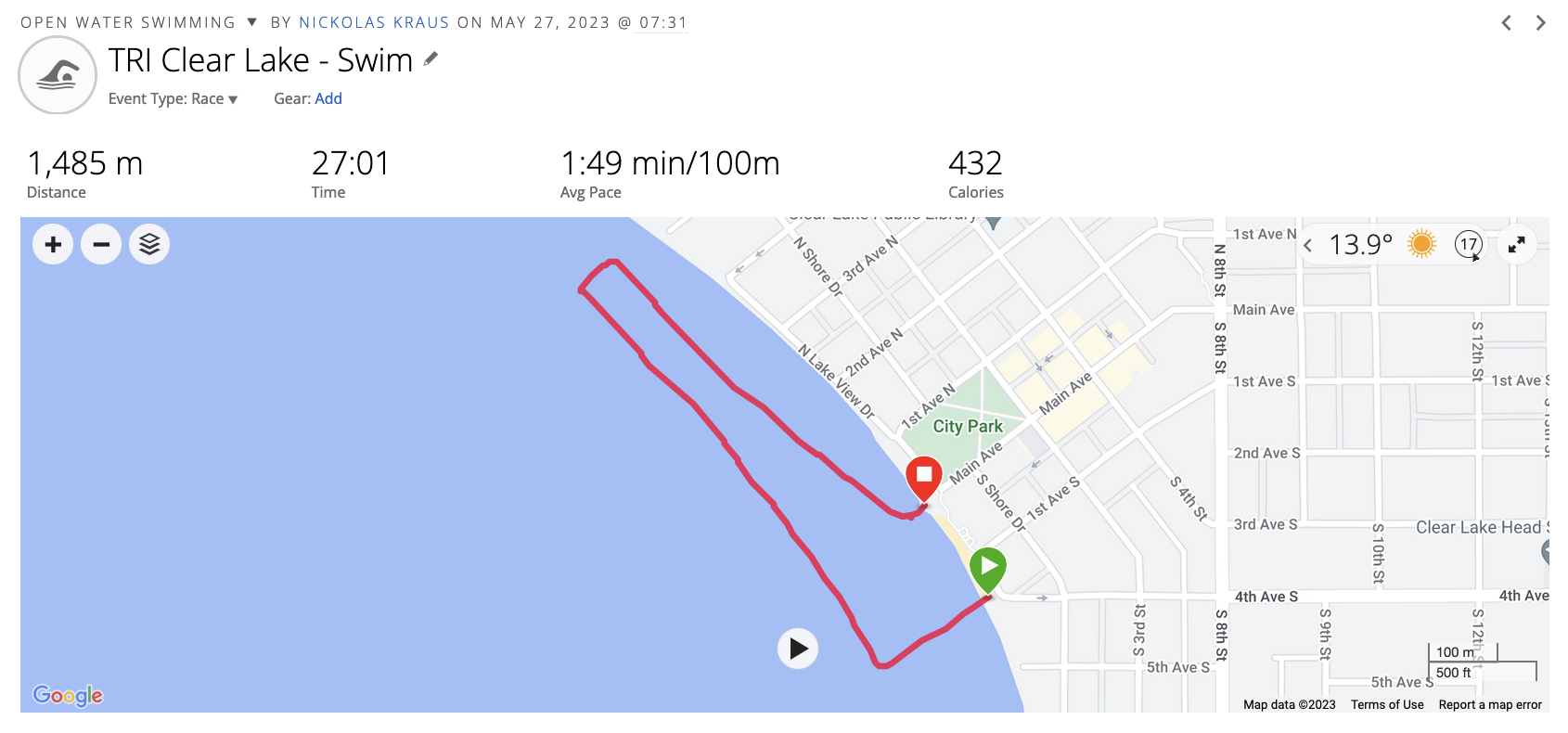 Garmin:
Bike
My maturation as an athlete was demonstrated on the bike course. I didn't necessarily bike any harder (229W average), but went ~4 minutes faster. This was due to better wheels (Zipp 808 Firecrest), better bike positioning, and generally being more cognizant of speed, rather than power. I definitely over-biked, but in an Olympic distance race, you can get away with being a little reckless and allowing adrenaline to push the pace.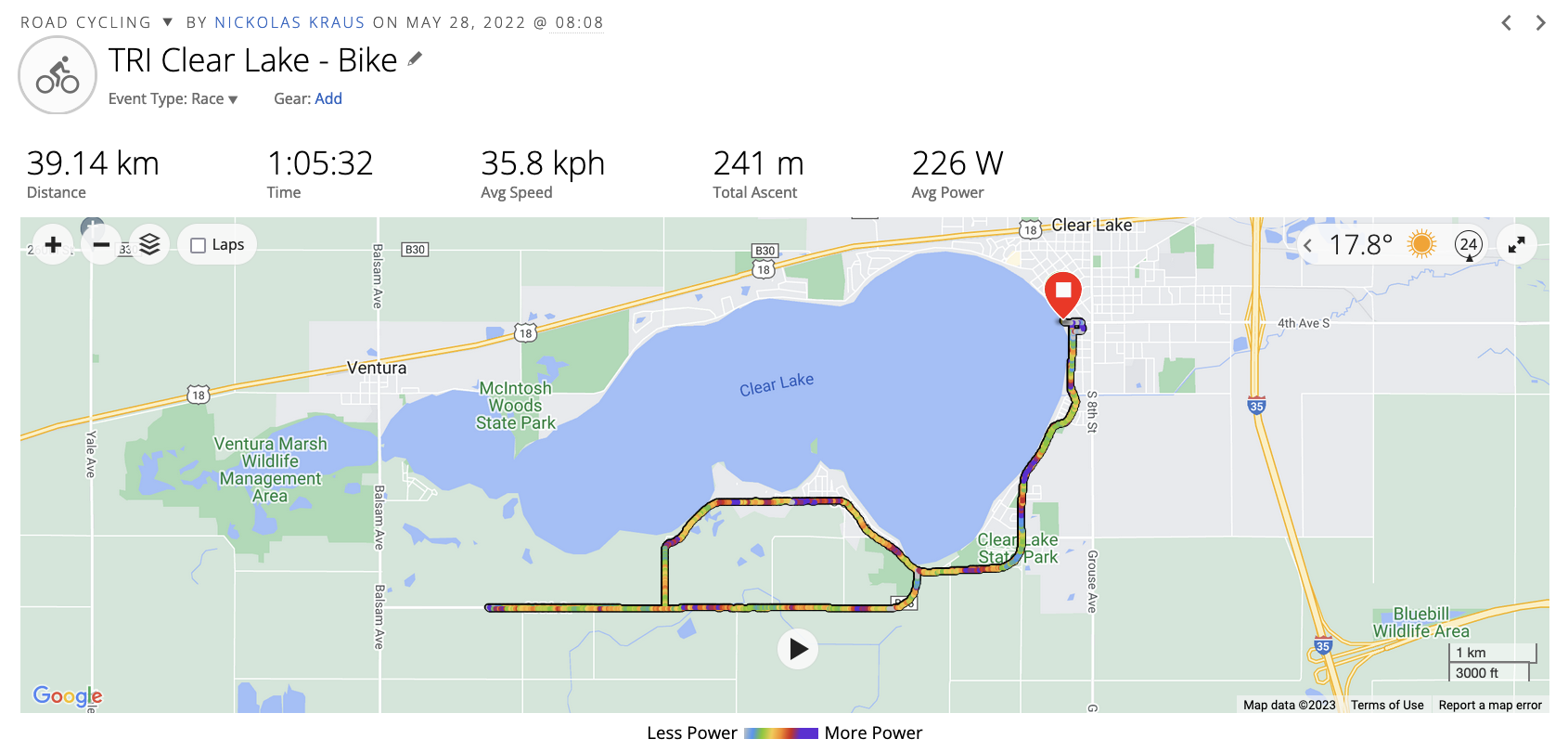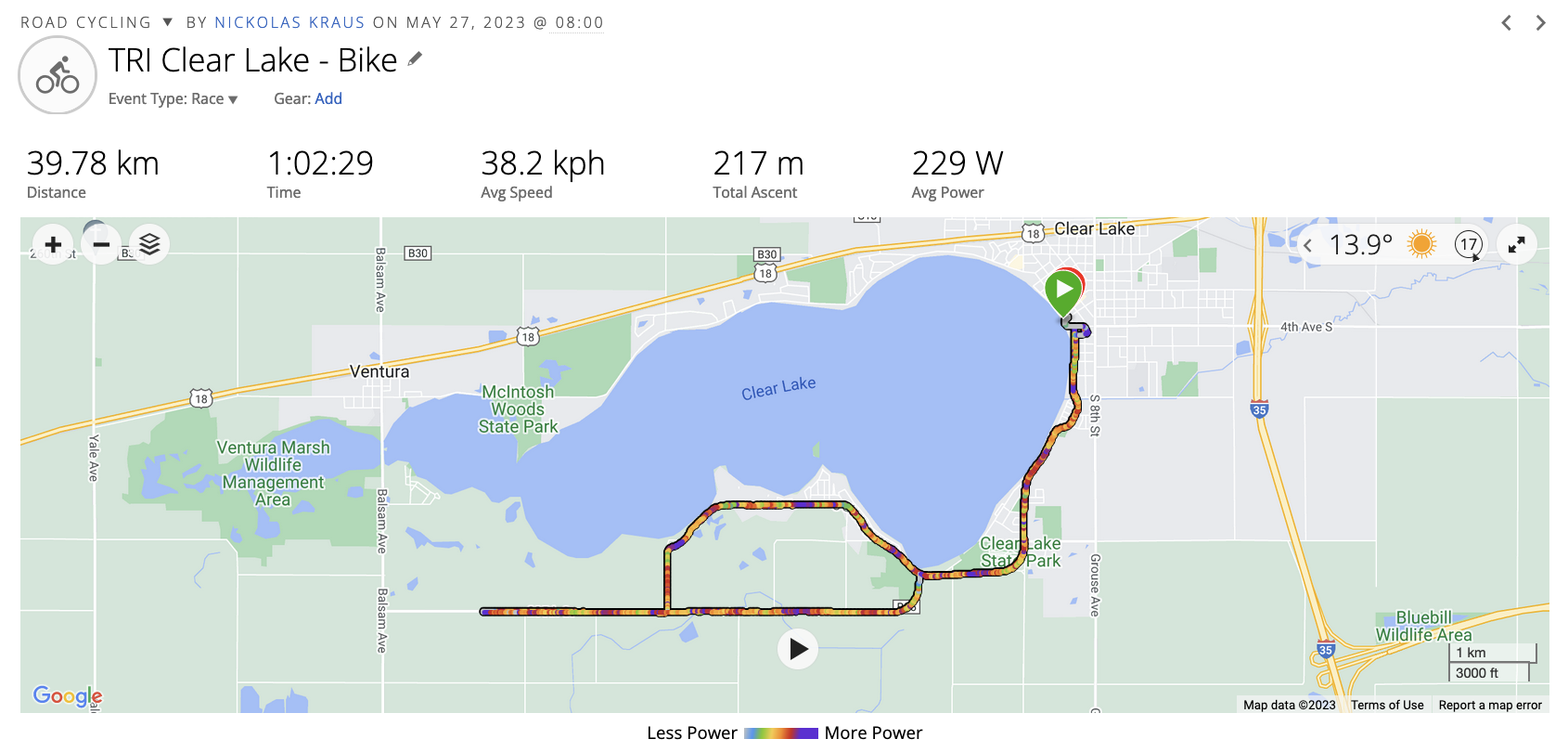 Garmin:
Run
My greatest improvement by far was on the run. I ran a 40:34.2 10K, which was a personal best of any 10K I had previously run. I could feel my quads cramping, which would have severely hurt my performance over anything but a 10K, but I was strong enough to run around ~3:50 min/k (6:10 min/mi) for the last 3km.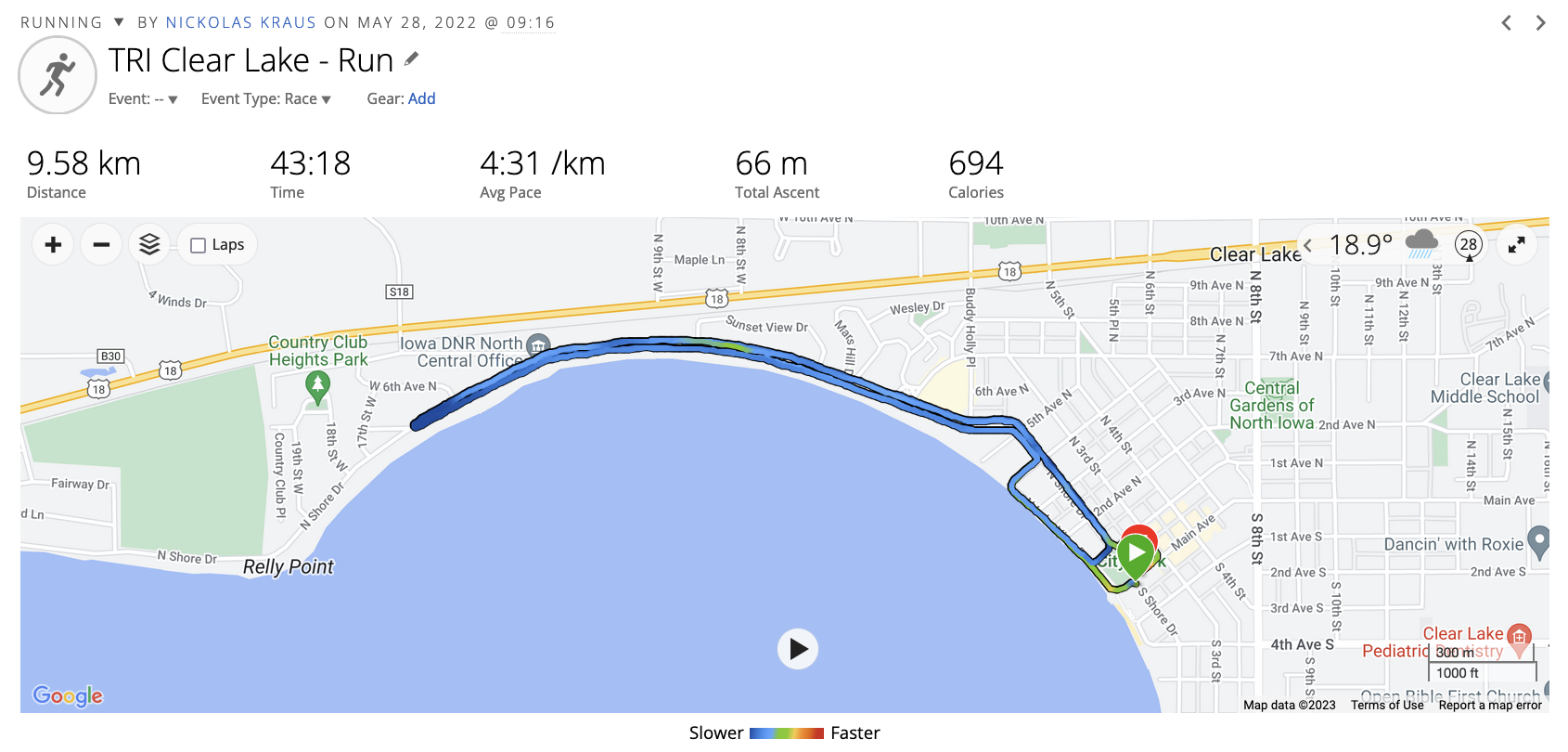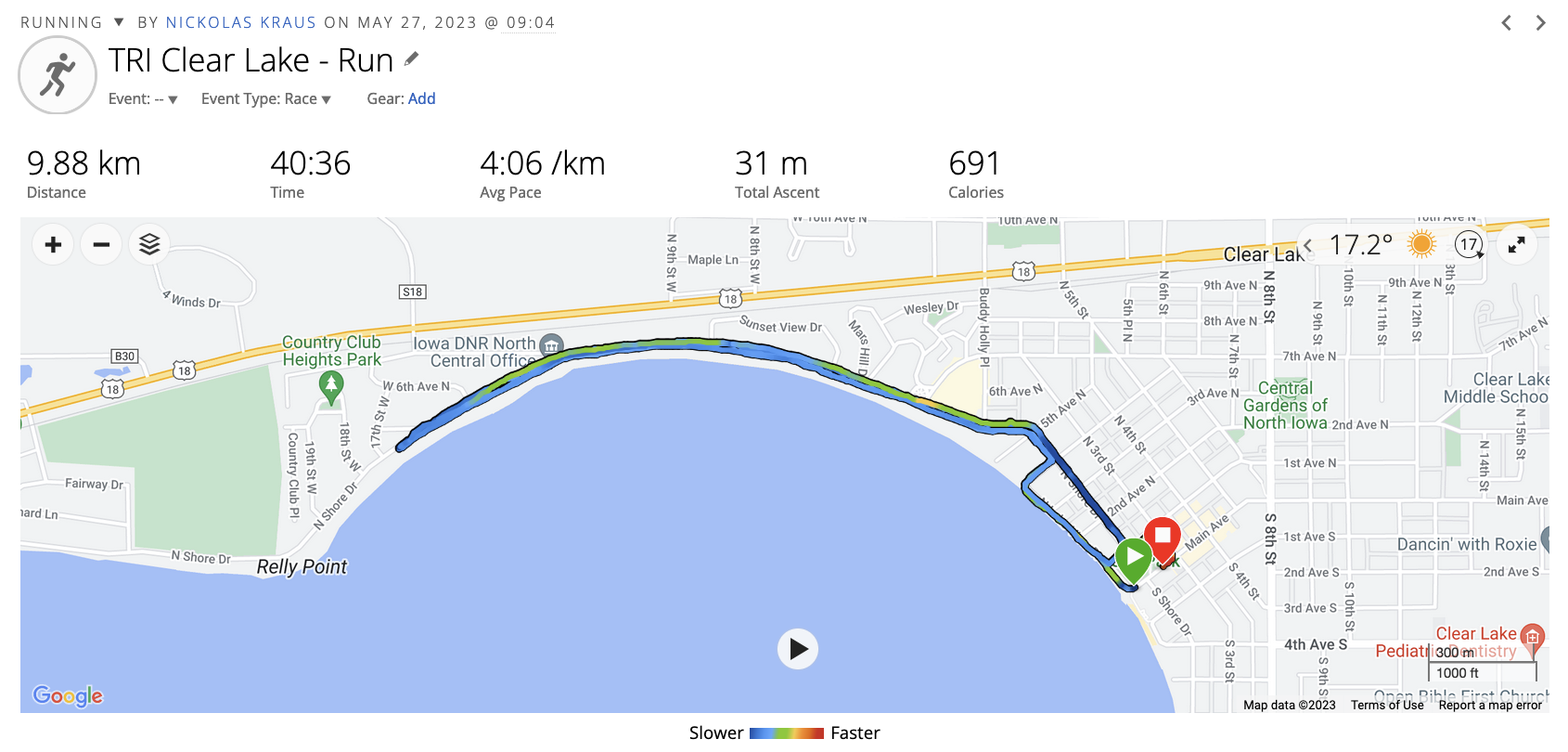 Garmin:
Retrospective
The 2023 season is off to a good start and I am happy with where my fitness is at. I am a faster, stronger, smarter athlete and my decreasing times year-over-year give me confidence that I will continue to improve.
My key takeaways from the race:
I need to swim a little harder. Arm speed and strength is key here, since my stroke is a tad slow.
For the half IRONMAN distance, I cannot allow my emotions to dictate the pace. I know what I can sustain for the swim, bike, and run. If I go beyond my ability, it will negatively impact my overall race.